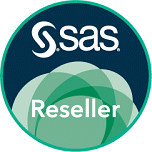 We became an authorised SAS Reseller in 2019. As a long established SAS Silver partner, Knoware is permitted to resell SAS software licenses and deliver and support SAS software.
This facility provides SAS customers with the ability to work with their local partner of choice to acquire a complete solution, without the need to work with multiple parties.(you can find out more here  or contact us directly – link to SAS Partner site)
As a SAS partner and SAS specialist since 2004, we have worked on behalf of, and for SAS Institute in NZ and Australia on many occasions.
On a number of projects our clients have asked Knoware to "be the lead provider" for largely simplicity of lines of responsibility and communication reasons.  The SAS Reseller programme facilitates this happening.
We are an authorised SAS Reseller