We work with you to design, develop and implement an Enterprise Information Management (EIM) framework for your organisation.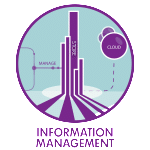 Your EIM framework ideally covers much more than Business Intelligence and Data Warehouse and ideally should also focus on the following key areas:
Governance of information

Structured data, and unstructured data strategies (e.g. images, audio visual, email, mobile)

Information Asset Architecture

Metadata management

Culture and stewardship of your organisation's Information.
We offer you practical "hands on advice" to help you get more from your investment in EIM solutions.
Examples of the type of work we regularly perform are:
Development of an information vision

Information development scoping

Development of Data Warehouse Strategy with 5 year roadmap

Data Warehouse Review and Evaluation

Review existing Business Intelligence use, solution and infrastructure

Feasibility Study for Data Warehouse